Study/Small Meeting Rooms
To reserve a study room, please use our online reservation system, or call 849-4217.
Meeting Room Rentals
Community Hall
Waunakee Public Library's Community Hall is a 2,300 square foot event space that provides a bright, flexible room with large windows overlooking the library grounds. A warming kitchen is attached to the Hall and side doors lead directly to the patio for outdoor access.
Whether you're looking to host a corporate meeting, class reunion, or family gathering, we offer several seating configurations and many A/V features to suit your event.
Image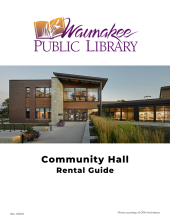 View the Community Hall Rental Guide for room details and pricing.
Image
Ver la guía de alquiler en Español.
Board Room
The Board Room offers a formal meeting space for groups up to twenty. Amenities include a large conference table, and a video display monitor for usage with personal devices. 
To book Community Hall or the Board Room, please call (608) 850-2533.
There is no discount given for non-profit groups when booking Community Hall, however, the fee for the Board Room can be waived if a tax-exempt certificate is shown.