Since many of our online resources--including ebooks, digital audiobooks, and magazines--require a library card to access, we are offer an online card application! If you do not currently have a library card, apply using our online application to get a limited-use card to gain access to these databases and resources.
You must be at least 16 years of age to apply for a card using this online application. Patrons under 16 years of age will need to fill out an application at the library with a parent/guardian. Applications submitted Monday-Friday will be processed within 24-48 hours. Applications submitted over the weekend will be processed on Monday.
By filling out an online application, you agree to the following:
I will be responsible for all materials checked out on this card, including materials checked out by others with or without my consent, unless I have previously reported the loss of my card.
I will report a lost or stolen card, or any change of personal information (name, address, phone, email) immediately.
I will comply with all library rules and policies.
I understand there will be charges for lost, damaged, and stolen library materials.
I understand that the library provides access to a broad range of resources and that it is my responsibility to judge for myself and for my children/minor dependents what resources are appropriate for my/our personal use.
If you think you may already have a card but have lost it or don't know the number, please email us at desperatereader@waupl.org.
To have your card converted to allow you to check items out, please bring a photo ID and proof of address to the library during our open hours, or email those items to desperatereader@waupl.org.
Image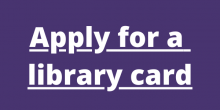 Image