We have over 2200 photos of historic Waunakee in our digital collection.
Search Waunakee newspapers from 1896-2006 through NewspaperArchive.com.
Take a historic walking tour of Waunakee created by Waunakee High School students. To begin, click here.
How We Got Here - Origins, Immigration, and Community
Watch a fascinating video about Waunakee's immigration stories.
Through a grant from the Wisconsin Humanities Council, WPL interviewed community members about where their families originated, how they came to the United States, and how they became part of Waunakee.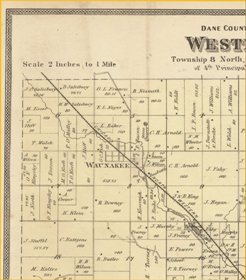 Dane County Plat Maps: Note: the village of Waunakee is located within Westport township
Westport Township 1861 (Waunakee was not a village until 1871, but "LESTER P.O." includes the area of present-day Waunakee)
Westport Township 1873 (click top left section to zoom in)
Westport Township 1911 (see index for photographs of Dane county schoolhouses and list of merchants in 1911)
Waunakee Centennial Book 1971
People Pleasing Recipes 1996

Envision the Past is a collection of free online books, articles and maps about the early history of Indiana, Illinois, Ohio, Michigan and Wisconsin.