We offer three great ways to find new books, authors, or series: librarian-curated grab bags, on-demand reading recommendations, or monthly book recommendations.
Grab Bag Requests
Are you having a hard time finding specific titles to place on hold? Not even sure where to start looking? Let us do the work for you! Fill out the appropriate form below to give us some information about the genres, topics, or types of materials you are looking for. We'll fill a bag of items for you to pick up and enjoy.
Image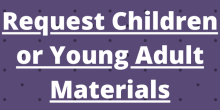 Image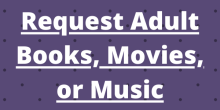 On-Demand Reading Recommendations
To receive on-demand reading recommendations, fill out a form and receive a list of titles, chosen just for you by a librarian, delivered straight to your inbox within 3 days.
Monthly Book Recommendations
Or, to receive a book recommendation every month, fill out a questionnaire with your reading preferences. You'll receive one new book to read at the start of every month, chosen just for you based on your personal preferences.